"Chinese Atrial Fibrillation Day", BAHEAL Pharmaceutical Group Cooperates with the U.S.-based AtriCure in Introducing Global Advanced Therapies against Atrial Fibrillation
Release Time:2018-06-06
View Count:609
It is the sixth "Chinese Atrial Fibrillation Day", a day chosen to be remembered for everyone's attention to atrial fibrillation (AF). To facilitate the treatment of such disease in China, BAHEAL Pharmaceutical Group (BPG) and AtriCure, a leading manufacturer of medical devices in the United States, jointly declared that the two parties would enter into a strategic cooperation agreement on AF solutions. Qingdao BAHEAL Pharmaceutical Holdings Limited, a BPG subsidiary, will become an exclusive agent and distributor of AtriCure's medical devices for AF ablation in China to serve over 10 million Chinese patients suffering the disease. It is BPG's another important event in medical area after the entry into strategic cooperation with IBM, Oracle, Philips and Itochu. BPG has become a portal connecting global top health and medical resources.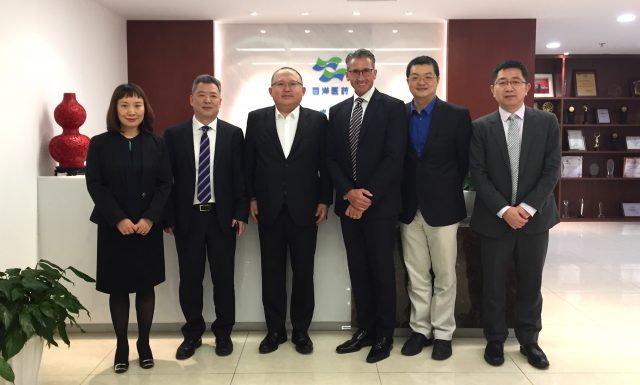 AF is a common detrimental arrhythmia disease which not only affects the quality of life but also may cause disabling, fatal complications, such as cerebral stroke or heart failure. It increases stroke risks by 5 times and accounts for more than 20% of strokes. According to a 2017 sample survey of the medical insurance database for 10 million people, the incidence of AF has increased by 20 times in the last eleven years. It is estimated that one person of every five adults has the risk of atrial fibrillation in his/her lifetime.
A devoted provider of AF solutions, AtriCure boasts more than 100 patents in the United States. Its Isolator® Synergy™ Ablation System is the very first and the only FDA-approved medical device in the world for treating persistent atrial fibrillation and has been the surgical solution to AF for a total of 200,000 patients in the world in the past decade. Currently the company has three critical therapies available, i.e., open surgical ablation, minimally invasive surgical ablation, and LAA occlusion management, which are sold to over 80 countries throughout the world and used by cardiothoracic surgeons and electrophysiologists to treat AF and reduce AF-related complications. The cooperation between AtriCure and BPG will push forward AF prevention and treatment in China and benefit local patients.
AtriCure has been marketing AF ablation devices in China for 14 years and its products are used in more than 200 first-class hospitals of the country. New approvals for the products will be obtained in the following years to introduce the entire suite of devices for AF ablation and LAA occlusion management to the Chinese market. BPT, as AtriCure's exclusive distributor in China, will work closely with AtriCure to further improve the distributor network and make the business grow throughout the country.
With the growing medical market and demand for health in China, companies with cutting-edge high technologies are in great need of portals connecting the Chinese market in order to control the market effectively and it has become a new trend of development to "go hand in hand" with businesses outstanding in marketing competency. "The Chinese market is self-evidently important and BPG enjoys a good reputation and a huge industrial scale in the industry. We are pleased for our partnership with BPG," said Mike Carrel, AtriCure Chairman and CEO.
"China is the largest country in the number of AF patients, where AF is found among not just the elderly but also the young and middle-aged due to living habits, great pressure and other adverse factors which cause the disease to happen earlier. However, the treatment of the disease by now does not have much to offer. As a portal company connecting global top medical and health resources, BPG is pleased to have entered into cooperation with AtriCure, a leading AF ablation device supplier in the U.S. and become its exclusive distributor in China. We are filled with confidence in the application and development of AtriCure's AF ablation therapies in China and hope that we can help more and more AF patients and provide them with better technologies and products," said Fu Gang, Chairman of BPG.
Driven by global top intelligent information technologies and based on the capacity for efficient integration of industrial resources with great competencies in health brand operation and management in the center, BPG is a corporation devoted to the innovative integration of the resources of the health industry providing optimized solutions for all parts of the chain of the comprehensive health industry. Over ten years of constant efforts has resulted in its powerful resource network in the health industry consisting of more than 12,000 medium and large hospitals and over 200,000 pharmacies. BPG provides global leading medical know-hows and pharmaceutical products to the general public on the basis of such philosophies as open mind, tolerance, cooperation and innovation.