Baheal Medical New Retail Business: Cute Camel Store 2.0 Opened in Qingdao
Release Time:2021-03-20
View Count:1527
On March 20, Qingdao Baheal Medical Co., Ltd (hereinafter referred to as "Baheal Medical") opened the flagship store of its new retail sub-brand Cute Camel 2.0 in Qingdao, Shandong Province. As the first truly fashionable health store in China, Cute Camel, the Chinese version of Matsumoto Kiyoshi, can realize the same category of operation as Japanese drugstore, with skin care products, drugs, health food, etc. operating and serving in the same space. The opening of this upgraded offline store marks the further upgrade and expansion of the new retail model of Baheal Medical.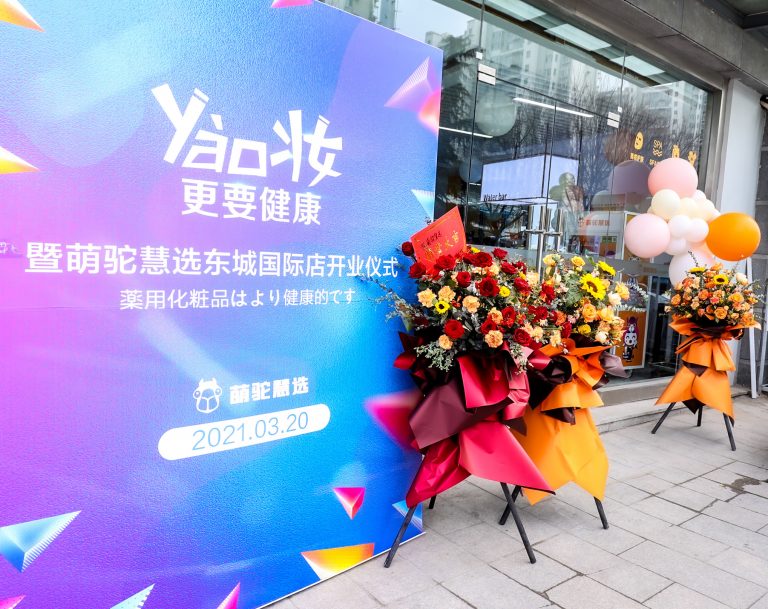 Powerful Business Integration Ability, Cute Camel Is Committed to Build China Matsumoto Kiyoshi
Cute Camel is inspired by Japanese drugstore, optimized and improved according to the consumption habits of Chinese consumers, and thoughtfully added into the store experience zone and camel salon activities. The products sold are based on efficacy, medical certification and safety insurance, and a complete supply chain system of pharmaceutical and daily chemical products is established to provide the same quality and price of pharmaceutical and product experience services with Japan and Europe.
When the whole family walks into Cute Camel, mom can buy more effective skin care products, dad can buy healthcare products, children can buy their favorite Netflix snacks, the elders can buy medical services and medicine. The whole family has something to buy to satisfy and beautify consumers' daily life.
The overseas epidemic has affected the entire cross-border goods industry chain. The tightening of regulations in entry and exit, logistics and customs in many countries, the increased cost of cross-border goods and blocked sales channels have brought challenge to the cross-border industry, which originally had huge market potential. On the one hand, the sales of foreign enterprises have dropped significantly and they are facing the dilemma of opening up new sales channels; on the other hand, the domestic end consumption demand has expanded and consumers' demand for high-quality skin care products, medicine, and health products has been rising.
Behind the situation, the cross-border commodity supply chain needs to break through with a strong platform. As a new retail brand of Baheal Medical, Cute Camel took the lead in exploring. In July 2020, the first Cute Camel comprehensive skincare collection store was located in Qingdao, with the number of skincare products, cosmetics, and other related products in more than 200 stores. After more than half a year, the number of products in the upgraded flagship store has increased to more than 600, and the quantity has multiplied while driving the quality to improve, so that consumers can realize more international brands domestically and "buy at affordable prices".
The New Retail Is Upgraded
As an explorer of new retail O2O model, Cute Camel takes the efficacy of medically certified skin care products as the core to meet the immediate needs of consumers. With the model of "offline experience + service" and "online sales + order", the integration of online and offline without boundaries, to solve the actual needs of consumers' life, skin care and family health in all aspects.
In recent years, consumption has been upgraded, people are more active in the pursuit of health and beauty, and the demand for service experience is rising, and offline scenario-based services have become a major trend. The flagship store of Cute Camel 2.0 upgrades the "offline experience + service", in addition to the preferential price for members, home delivery within 3km, exclusive health management and other services, members can experience free manicure and eyelash extension, SPA, free skin care and other diversified beauty services in the store. At the same time, each store has licensed pharmacists, and continues to train counter staff to provide and disseminate more professional skin care and health solutions for consumers on a one-on-one basis.
In addition to the independentCute Camel skin care store, Cute Camel also enhances the brand value of retail pharmacies by stationing in professional pharmacies and enriching pharmacies with multi-scene health experience services. While creating high-end health experience scenes, the new experience of constantly upgrading differentiated services has made Cute Camel highly favored by consumers and achieved rapid expansion. At present, CuteCamel has opened stores in Beijing and Qingdao.
Jointly with Brands to Deepen the New Retail Channel, Baheal Medical Leads the Transformation and Upgrading of the New Retail Mode
Driven by the integration of online and offline and the demand for consumer upgrading, the retail industry has gradually shifted from a channel-oriented to a consumer-oriented model. The trend of new retailing is to establish a wide and comprehensive channel network, enhance brand operation capability, and integrate multiple industries.
Relying on the close cooperation between Baheal's commercialization platform and upstream pharmaceutical enterprises, the selected products of Cute Camel are obtained from the source of foreign enterprises, covering global health brands, which not only has a complete variety of categories, but also guarantees the authenticity of the product sources. After professional content planning and in-depth cooperation with KOL, each brand product cooperated with Cute Camel will be pushed to offline skin care stores, professional pharmacies and online channels such as social e-commerce and vertical e-commerce to reach consumers.
The breakthrough of Cute Camel in the new retail channel is also the layout and exploration of Baheal commercialization platform brand operation, reshaping the new retail business structure and ecosystem, and constantly upgrading according to consumer demand, from the traditional "selling goods" to providing new services, so that consumers' experience and perception can be upgraded. With another store opened, Baheal Medical will continue to lead the transformation and upgrading of new retail business and consolidate the brand operation capability.