BAHEAL Pharmaceutical Group (BPG) Reached a Comprehensive Business Cooperation Agreement with Itochu Corporation
Release Time:2018-05-11
View Count:599
Background:
Chinese Premier Li Keqiang arrived in Japan for the 7th China-Japan-South Korea Trilateral Summit and an official visit to Japan on May 8, 2018. This year marks the 40th anniversary of the conclusion of the Treaty of Peace and Friendship between China and Japan, which is a pivotal point of time in Sino-Japan relations, and Premier Li's visit to Japan will provide an important opportunity for efforts to improve the relationship between the two nations.
Premier Li issued an undersigned article, entitled "Let Peaceful and Friendly Cooperation between China and Japan Sets a New Sail" on Asahi Shimbun on May 8, injecting a "new driving force" into the efforts to improve and develop Sino-Japanese relations. Premier Li says that, highly complementary in economies, China and Japan enjoy a broad prospect for more effective cooperation in a wide range of fields, such as energy saving and environment protection, technological innovation, high-end manufacturing, fiscal policy and finance, shared economy, healthcare and old-age pension, among others, in another round of technological and industrial revolution and that businesses of the two countries have great potential in cooperation on third-part markets.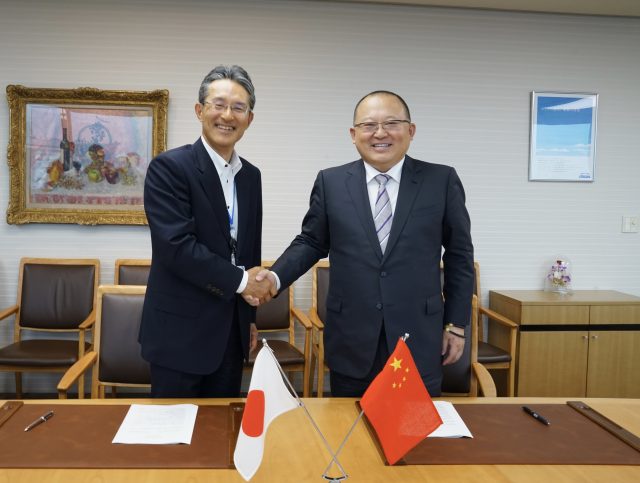 BAHEAL Pharmaceutical Group (BPG) Reached a Comprehensive Business Cooperation Agreement with Itochu Corporation
Recently BAHEAL Pharmaceutical Group and the Japan-based Itochu Corporation (herein "Itochu") had entered into a comprehensive business cooperation agreement in respect of medicine and health. The two parties will engage in a full range of cross-border cooperation in over-the-counter drugs (OTC), prescription drugs, personal health care, cutting-edge technologies, among others, and make joint efforts in exploring the markets in China and Japan as well as other overseas pharmaceutical and health markets.
This is a new breakthrough in BAHEAL's global supply chain strategy and, in the future, BAHEAL will introduce high-end pharmaceutical technologies, new techniques and innovative drugs from Japan and help Japanese pharmaceutical manufacturers provide precise services via new distribution platforms.
Opportunities in China's Medical and Healthcare Field Facilitates Cooperation between BAHEAL and Itochu
The Central Committee of CPC and the State Council issued the Outline for "Healthy China 2030" Program in late 2016, in which the health industry was defined as "a pillar industry of national economy". According to statistics, the scale of the comprehensive health market in China exceeded RMB 3 trillion in 2016 and the scale of China's health industry market is estimated to grow rapidly to RMB 16 trillion in fifteen years, where opportunities for investment in fields such as drug manufacturing and circulating, medical devices, medical services, among others, will be strongly promoted and supported, which is worth extraordinary expectation.
BAHEAL shall cooperate with Itochu and its jointly owned holding companies in six fields, i.e., the marketing of healthcare products, such as over-the-counter drugs (OTC, etc.), functional cosmetics and functional food; manufacturing and marketing of prescription drugs; personal health care; high-end technologies and new services; overseas business; and joint investment. In manufacturing and marketing of prescription drugs, the two parties will seek ways to improve sales of high-quality, highly safe prescription drugs made in Japan at hospitals and drugstores in China by means of Internet technology and ways to introduce excellent pharmaceutical technologies in Japan to China. The two parties will also discuss new business opportunities in services for therapeutics against cancers with the latest technologies, such as artificial intelligence, IoT, among others, academic exchanges, marketing assistance as well as logistic applications, and a lot of other aspects.
"The vigorous support of the state for the medical and health industry will greatly promote cooperation between enterprises from different countries in innovative drugs as well as high-end and cutting-edge technologies, and the cooperation between the most competitive players and comprehensive strategic cooperation alliances will be the mainstream in the development of enterprises in the future. This full-range strategic cooperation established between BAHEAL and Itochu is helpful for mutual benefit and development of the two parties and the connection with Japanese pharmaceutical and health enterprises in great depth and breadth will, more importantly, provides a full range of support for BAHEAL in introducing high-quality, highly safe prescription drugs as well as cutting-edge pharmaceutical and medical technologies from Japan. This is also another cooperation of BAHEAL, as a portal Chinese enterprise engaged in health, with a leading global player after IBM, Philips and Oracle," said BAHEAL Pharmaceutical Group's Chairman, Fu Gang.
"To adapt to the complex Chinese market more effectively and further improve the medical and health sector, we think it is essential to work together with local businesses in China. BAHEAL, with the target to transform from a traditional business model to a new generation of circulation and marketing platform, is a general medical and health service provider which has been making a lot of efforts in the innovation and development of China's pharmaceutical and health industry. Such an innovative and effective driving force counts a lot in Itochu's view of developing partners in this country. It is believed that, with the help from BAHEAL, Itochu will provide even better services for Chinese medical institutions and patients," said Ishii Keita, Managing Executive Officer of Itochu and President of Energy & Chemicals Company.
As the largest general trading company in Japan, Itochu has had its offices established in approximately 120 places in 63 countries and regions, engaged in multifaceted trade and investments across the world. Since 1972 Itochu has been approved as a large general trading company to start trading with China, it has been working towards reserving "Chinese talents" with insightful knowledge of the Chinese history and culture, and trading habits, among others, and making endeavors to conclude cooperation with leading Chinese companies in various fields for common prosperity.
BAHEAL Creates New Medical Distribution Platforms and Increases Investments in Rimeijian Drug (China) Co., Ltd.
It has been increasingly frequent for Chinese companies to cooperate with their foreign counterparts in recent years, which will be more and more evident in the medical and health industry. On April 12, Premier Li declared at an executive meeting of the State Council that a decision had been made on the application of zero-tariff to imported anticancer drugs. On April 23, the Customs Tariff Commission of the State Council (CTCSC) promulgated that the import tariffs for 28 drugs (all drugs for general purposes, alkaloid drugs with anticancer roles and Chinese patent drugs with actual imports), including anticancer drugs, be reduced from 3%-6% to zero by provisional tax rates since May 1 of the present year, which marks a substantial policy support from the state for drug importing as well as the medical and health field.
As the first item in the comprehensive business cooperation agenda between BPG and Itochu, Qingdao BAHEAL Pharmaceutical Co., Ltd., a top Chinese seller of imported OTC (over-the counter) drugs under BAHEAL, will increase its investment in Rimeijian Drug (China) Co., Ltd. (herein "RMJ (China)"), a joint venture company of Itochu and Alfresa Holdings Corporation, the largest pharmaceutical business company in China, which has so far had its drug circulation and marketing available in China.
According to Fu Gang, BAHEAL would make efforts in many ways to push forward the cooperation between the two sides for solid results. First of all, assistance will be provided for easier access of Japanese drugs, health products, skin care products and hi-tech services to the Chinese market through BAHEAL's marketing capacity. Secondly, the big data application capacity of BAHEAL's new distribution platform will more accurately help Japanese pharmaceutical companies to screen terminal channels and provide more precise and effective marketing solutions for the customers. Last but not the least, this global arrangement will be a remarkable breakthrough in supply chain as far as BAHEAL is concerned and will drive BAHEAL to grow into a portal to link China to top medical and healthcare resources in the world, further improving BAHEAL's general deployments in the medical and healthcare field and contributing to the "Healthy China 2030" Initiative.