BAHEAL Pharmaceutical Group Works with Top 100 Chain Pharmacies to Push Forward Standard Development of Prescription Outflow
Release Time:2018-06-21
View Count:604
In order to further promote the implementation of the policy for separated medical and pharmaceutical services and to standardize the development of the prescription outflow market, China Association of Pharmaceutical Commerce (CAPC), mainstream chain pharmacies in China and BAHEAL Pharmaceutical Group (BPG) jointly launched the "Initiative on Standard Development of Third-party Prescription Sharing" on June 21 during the "2018 China Pharmaceutical Retail Industry Annual Conference" for comprehensive promotion of lawful, compliant and reasonable development of prescription outflow. CAPC and BPG also signed a joint agreement with 16 mainstream chain pharmacies, including Da Shen Lin, Yi Xin Tang, LBX Pharmacy, YiFeng Pharmacy, among others, in China on intensive cooperation with regard to YFZ Third-party Prescription Information Sharing Platform and Smart Pharmacy Total Solutions. Hundreds of hospitals and pharmacies will be interconnected with information shared in days to come for more effective service for the general public.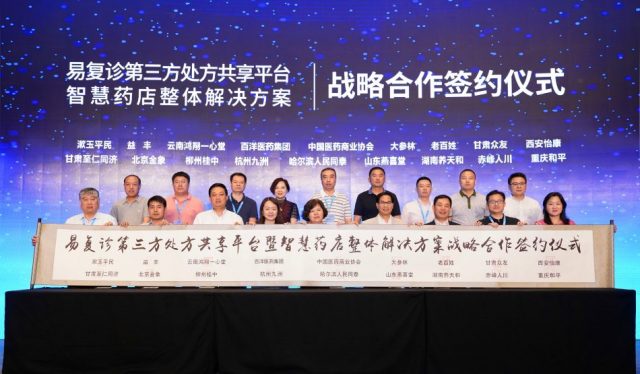 Signing Ceremony of the Strategic Cooperation Agreement on intensive cooperation with regard to YFZ Third-party Prescription Information Sharing Platform and Smart Pharmacy Total Solutions
Pharmaceutical Industry Launched the Initiative on Standard Prescription Sharing: "Compliance", "Universal Benefits" and "Safety"
The medical reform process is undergoing a critical stage in China and the outflow of hospital prescriptions will be further carried out throughout the country in 2018. China has introduced a large number of policies to encourage the flow of prescription information through efforts to explore the three-party sharing methods for "interconnection and real-time sharing of information on prescription of medical institutions, information on MIS settlement and information on sales and consumption of drugs.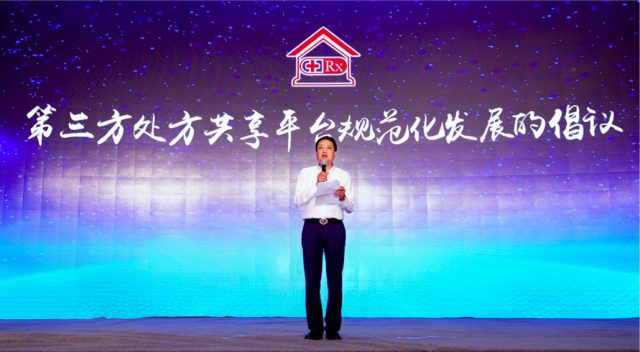 Ruan Hongxian, Chairman of Yunnan-based HY Yi Xin Tang, is reading out the initiative

As a representative, Ruan Hongxian, Chairman of HX Yi Xin Tang in Yunnan, read out the "Initiative on Standard Development of Third-party Prescription Sharing" at the conference. The Initiative points out that sharing of prescriptions should be based on the precondition of "COMPLIANCE", the goal of "UNIVERSAL BENEFITS" and the safeguard of "SAFETY". The requirements of state policies must be strictly observed in creating the Third-party Prescription Information Sharing Platform; "responsibilities, rights and benefits" must be clearly defined in the outflow of hospital prescriptions; a multi-player prescription review system and a marketing regulating system should be established; and a traceable regulating system must be established and administrative authority be accessible to competent regulating authorities to ensure appropriate and safe medication of the patients.
With the patient-centered Third-party Prescription Information Sharing Platform, the patients can choose the channel freely for collection of drugs, which ensures their rights to be informed and to make choices on their own. Drug prices are controlled properly and the patients may spend less on drugs. Work is being done constantly for new forms of services for the convenience and interests of the general public, facilitate new distribution methods such as the refilling of prescriptions online for revisits, "online order and pharmacy pickup" and "online order and pharmacy delivery", among others, to improve the patient experience in seeking medical services.
Meanwhile strict access criteria and administrative standards must be established for Third-party Prescription Information Sharing Platform, with preventive moves established for timely penalties for pharmacies and individuals, among others, that operate in non-compliant manners. A fully developed information safety control system and safety emergency plans should be built up for safer and more confidential information system to prevent secret data decoding, unauthorized access of information as well as to prevent prescription information statistics and unauthorized disclosure of information.
It is also pointed out in the Initiative that we should encourage the establishment of the Prescription Information Sharing Platform for medical service providers, medical insurance institutions and retail pharmacies to enable the patients to buy their drugs freely in retail pharmacies by presenting the e-prescriptions from hospitals and fulfill the MIS pooling reimbursement formalities in a real-time manner, thus achieving interaction among the prescription issuance and review in hospitals, review and reimbursement at medical insurance institutions as well as prescription access and drug dispensing services by retail pharmacies. By establishing the third-party information sharing platform, medical resources will be optimized and medical costs reduced; medical insurance funds will be more cost-efficient for greater security capacity; and purchase of drugs will become easier to ensure safe medication of the patients.
In this respect, CAPC Chairman Fu Zhongming said that, as a result of the ongoing medical reform in China, the outflow of prescriptions will further improve our medical system and also push forward large-scale marketing innovations across the pharmaceutical industry. However, the reform needs innovation and innovation needs standardization. To facilitate the landing of the policies for medical and pharmaceutical reform and promote standardization of the prescription outflow market, it is important in the very first place that the Third-party Prescription Information Sharing Platform should be connected among the hospitals, pharmacies and medical insurance institutions for standard development. The Wuzhou Model of YFZ established in Guangxi Autonomous Region has been recognized by the government and the industry. It is believed that Third-party Prescription Information Sharing Platform will help more hospitals and chain pharmacies access a safe, compliant prescription outflow market under the leadership of the Initiative for standard development of prescription sharing.
Accelerating Reform of the Medical Retail Sector with 16 Large Chain Pharmacies Entering into a Joint Agreement
Accelerating reform of medical retail coincides with, on one hand, more and more consumers looking forward to improved medical services, which drives increasingly standard development of the medical and pharmaceutical markets in China; and, on the other, injection of new vigor into the growth of the pharmaceutical retail market following constant application of prescription outflow and big data to the medical industry.
16 mainstream chain pharmacies having entered into the joint agreement include: Da Shen Lin, YX Yi Xin Tang in Yunnan, LBX Pharmacy YiFeng Pharmacy, Zhong You Pharmacy in Gansu, SYPM Pharmacy, Yikang Medicine, HPGC Renmintongtai Pharmaceutical Corporation, Yanxitang Pharmaceutical in Shandong, Jiuzhou Drugstore in Hangzhou, Yontinhe Group in Hu'nan, Guizhong Pharmacy in Liuzhou, Renchuan Pharmacy in Chifeng, Jinxiang Pharmacy in Beijing, Peace Drugstore in Chongqing and Zhirentongji Pharmacy in Gansu.
The signing parties will work intensively to promote the standard landing of prescription information sharing platform nationwide under the Initiative to improve regional sharing of pharmaceutical and health data, management of prescription authenticity, pharmaceutical services and drug supply, endeavoring to provide safe, easy, affordable, premium and reliable pharmaceutical and health services for patients and laying a solid groundwork for further landing of medical reform policies.
As the supporter for the connection between chain pharmacies and hospitals, YFZ Third-party Prescription Information Sharing Platform will provide the prescription sharing platform with comprehensive technical services, such as the hospital prescription information sharing platform, regional centralized drug procurement platform and medical insurance retail settlement platform, etc., to fully increase the operating efficiency of every segment and generally improve the experience of the general public in seeking medical services. According to Ma Guanglei, CAPC Deputy Secretary-general and GM of YFZ, sustained efforts are needed in studying the approaches to the separation of medical and pharmaceutical services for a realistic and safe model that truly connects the hospitals, the pharmacies and the patients and helps attain the needs of the patients as well as the regulatory requirement of the hospitals and the government. Successful models for the separation of medical and pharmaceutical services must conform to policy norms as well as the operating rules of hospitals and pharmacies and fulfill win-win goals for multiple players by steps.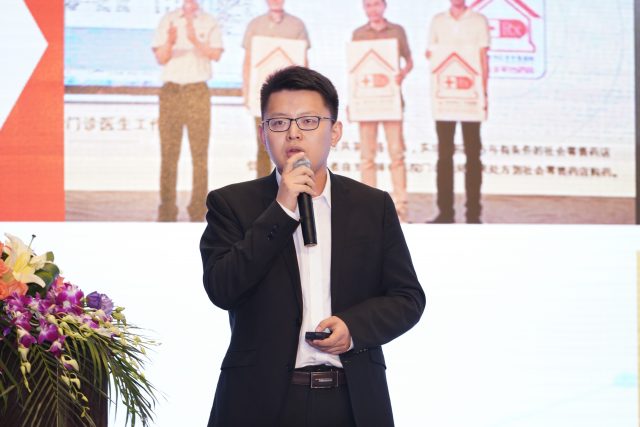 YFZ GM Ma Guanglei is delivering a speech

YFZ has established a replicable "Wuzhou Model" in Wuzhou, Guangxi. With participation of a number of parties, the city became the first in practicing the sharing of prescription information on November 15, 2017, with over 20 Tier-II (and above) hospitals and more than 100 pharmacies connected to Third-party Prescription Information Sharing Platform, interconnection and real-time sharing of prescription information of medical institutions, settlement information of medical insurance institutions and drug retail and consumption information is achieved. A special report was made by CAPC to the Ministry of Commerce and medical insurance administrative authorities on the demonstrative results achieved under "Wuzhou Model" which will be promoted nationwide as a model. The model has been copied rapidly by now, with YFZ Third-party Prescription Information Sharing Platform put into operation comprehensively in Liaoning, Heilongjiang, Shaanxi, Shanxi, Hu'nan, Guangdong, among others, in a row. Ma Guanglei said that YFZ will be landing in more and more regions and cities as a large number of government agencies, hospitals and drugs are participating actively.
Besides standardization of prescription sharing, extra-hospital prescription operations also pose new challenges on the channel management of pharmaceutical companies and pharmacies as well as the efficiency and professionalism of the pharmaceutical retail industry. The cooperation under the joint agreement signed among the chain pharmacies and BPG also includes Total Smart Pharmacy Solutions. BPG will provide Prescription Information Sharing Platform related pharmacies with total solutions that cover intelligent medical services, health experience services, digital marketing and extended services as well as extended prescriptions and chronic disease services to enable intelligent upgrade of conventional pharmacies and the promotion of the pharmacies from single product sales to community service centers.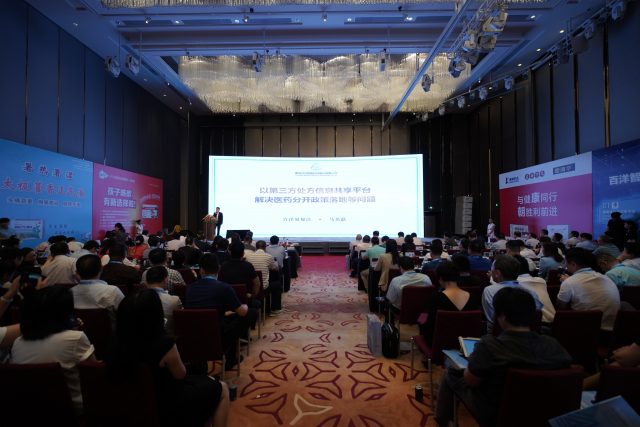 The Event