A New Breakthrough in "Wuzhou Model" YFZ Accomplishes Online Subsequent Consultation and Prescription Renewal for Chronic Diseases
Release Time:2018-07-09
View Count:602
Recently a Notice on Issues with Regard to Pilot Direct Settlement of Outpatient Services for Special Chronic Diseases under the Medical Insurance System (MIS) at Prescription-sharing Pharmacies (Draft for Advice) (herein the "Draft for Advice") issued by Human Resources and Social Security Bureau (HRSSB) of Wuzhou, Guangxi was put into pilot operation recently. Direct settlement of chronic diseases for MIS Pooling Accounts was launched formally at prescription-sharing pharmacies (PSPs) in Wuzhou on July 5. Da Shen Lin Pharmacy and Wuzhou Bai Xing Pharmacy, two PSPs established on the basis of YFZ Third-party Prescription Sharing Platform, entered into agreements with Wuzhou HRSSB among the first group of pharmacies out of hospitals and were connected to MIS Pooling Accounts, opening a gate critical for the outflow of prescriptions. Director Xie Ying of Wuzhou Health and Family Planning Commission, Director Dai Jun of Wuzhou HRSSB, Director He Shulan of Wuzhou Social Security Bureau, Vice Director Huang Chujun of Wuzhou Food and Drug Administration, President Huang Yunqi of Wuzhou Red Cross Hospital and YFZ's GM Ma Guanglei attended the launch ceremony.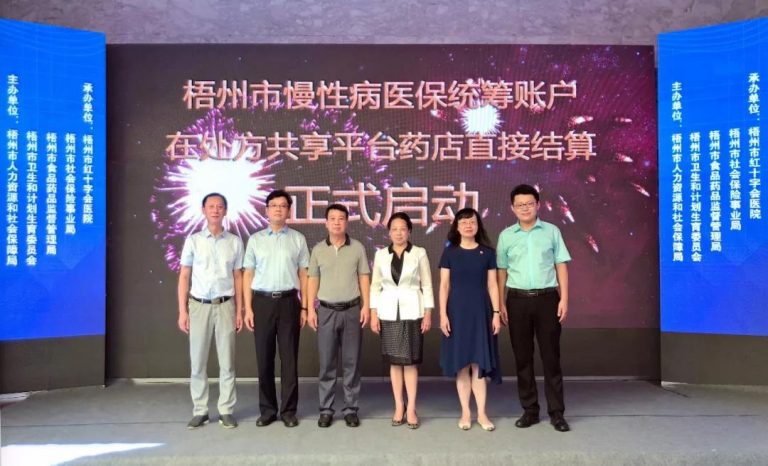 Launch Ceremony of Direct Settlement of Chronic Diseases for MIS Pooling Accounts at Prescription-sharing Platform Pharmacies in Wuzhou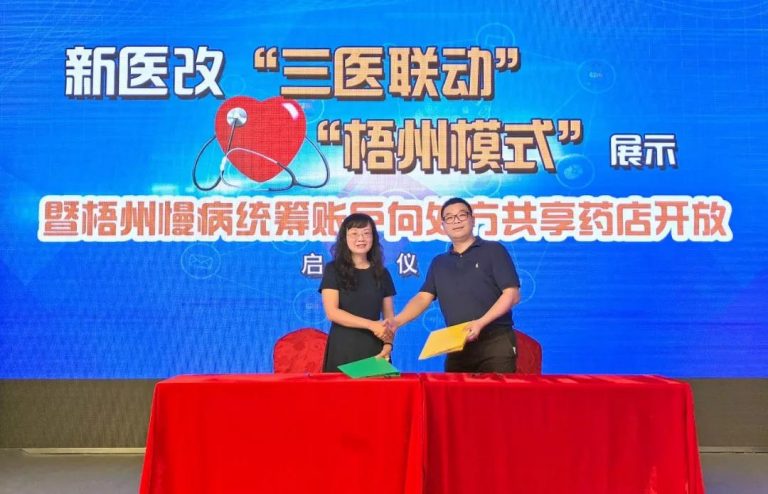 Director He Shulan of Wuzhou Social Security Bureau Signing Agreement with Pharmacy Representative
A New Breakthrough in "Wuzhou Model", with Online Subsequent Consultation and Prescription Renewal for Chronic Diseases
MIS Personal Accounts of the patients can be applied at pharmacies all along but MIS Pooling Accounts of patients with special, chronic diseases have not been open to pharmacies, which hinders complete outflow of prescriptions. The newly upgraded "Wuzhou Model" lifts a critical gate for prescription outflow.
The state is strengthening the efforts for separation of medical and pharmaceutical services. On April 28, the General Office of the State Council released the Opinions for Promoting the Development of "Internet + Medical Care & Health to make arrangement for facilitating further integration and development of Internet and medical care & health, in which it is pointed out that work will be done to improve "Internet +" services to safeguard drug supply and that medical institutions and drug businesses may entrust eligible third-party institutions with the delivery after prescriptions issued online for common diseases and chronic diseases are reviewed by pharmacists.
The Draft for Advice issued by Wuzhou HRSSB is a proactive response to state policy. Pilot direct settlement of outpatient services for special, chronic diseases under MIS will kick off at prescription-sharing pharmacies on July 1, 2018 and PSPs of MIS-designated medical institutions having signed the MIS Service Agreement in Wuzhou can settle the costs for special, chronic diseases under MIS directly, with the part to be borne by the insured individuals settled by the insured individual directly with the pharmacies and the part to be borne by the Pooling Fund settled between the MIS Handler and the pharmacies.
Director Dai Jun of Wuzhou HRSSB said that HRSSB will open pooling reimbursement for chronic diseases formally to eligible pharmacies based on the prescription-sharing platform and that direct settlement under MIS will be available for outpatients with special, chronic diseases at PSPs. Pooling accounts are open to retail under the precondition of authentic and traceable prescriptions and the goal is to benefit people and make it easier for the patients to seek medical services. The creation of the Prescription Sharing Platform has provided an effective solution to standard prescription circulation, pharmacy services and data safety in settlement for the pooling accounts.
The recent new upgrade of "Wuzhou Model" can be seen mainly in two ways. The first is the creation of a reasonable, controllable online prescribing procedure for subsequent consultation. Based on YFZ Third-party Prescription-sharing Platform, the patient may freely choose to upload the prescription code valid in the latest two months and the hospital, with related data, can access information on the visit of the patient and records as basis for the subsequent consultation, thus achieving real and safe online prescription renewal for chronic diseases. Secondly, the pooling accounts are open formally to retail pharmacies. Most patients with chronic diseases are concerned with reimbursement for MIS pooling accounts and the alignment of the first group of prescription-sharing pharmacies with MIS enables the patients to benefit more easily from extended hospital services and purchase of drugs out of hospitals
According to Director Xie Ying of Wuzhou HFPC, this upgrade of "Wuzhou Model" represents a new milestone in providing more easily accessible medical services. The opening of pooling accounts has a positive effect on facilitating separation of medical and pharmaceutical services and decreasing drug prices; and patients with chronic diseases don't need to queue up to buy the drugs and can enjoy prescriptions for subsequent consultation at home and delivery of drugs to the door, patients' experience greatly improved in seeking medical services. As far as the hospitals are concerned, the flow of patients can be separated, enforceable pathways are established for hospitals to detach outpatient dispensaries, among other moves, and the quality of services for patients with chronic diseases are improved.
As a Third-party Prescription Sharing Platform, YFZ will work hard in these two respects and build up an integrated online and offline model for medical service before, during and after diagnosis. In the future, it will also make efforts to identify pharmacy delivery and other forms of service to enable patients with chronic diseases and those in need of subsequent consultation and drug dispensing to complete the entire processes of the visits and drug dispensing at home.
Vice Secretary-general of China Association of Pharmaceutical Commerce and YFZ's GM Ma Guanglei said that Wuzhou Model is strongly replicable and has been landed across China quickly. Its strong replicability is mainly reflected in that the Third-party Prescription Sharing Platform has three major characteristics available: firstly, the entire model enjoys a full set of policy bases to make it "lawful"; secondly, the capacity is relatively complete in terms of information, services and regulatory system to make it highly professional; and thirdly, it enables the hospitals and the government to monitor reasonable drug prescribing, provides the patients with easily accessible ways to buy drugs and the pharmacies with lawful ways to handle prescriptions from hospitals, improves the efficiency in marketing prescribed drugs and reduces transaction costs, thus achieving win-win among multiple parties.
More Standard Landing of the RMB 100-Billion Outflowing Prescription Market
In the context of outflowing prescriptions, according to Hua Chuang Securities Research Report, the value of prescriptions to be handled out of the hospitals will increase by RMB 300 billion if the marketing of prescribed drugs reaches the level in the United States, i.e., the sales volume of prescribed drugs out of the hospitals accounts for 45% of the total sales volume of prescribed drugs. This increase will be fulfilled mainly by retail pharmacies and third-party terminals. The general trend of outflowing prescriptions will increase overall growth rate of the medical retail industry.
Facing this huge market, pharmaceutical companies, circulation businesses and retailers have engaged many attempts, including DTP dispensaries, the new Internet + Medicine retail model and third-party prescription sharing platforms, etc., among which, YFZ's Third-party Prescription Sharing Platform has led to emerging separation of medical and pharmaceutical services after a year of exploration and practice. Take Wuzhou Red Cross Hospital for example, outflowing prescription accounts for around 11% of all prescriptions issued in the hospital and the proportion will increase further after the newly upgraded "Wuzhou Model" as PSPs may apply for pilot direct settlement of services for special, chronic diseases under MIS.
Yu Huaijun, Vice President of Da Shen Lin Pharmaceutical Group Corporation, said that the opening of pooling accounts poses stricter requirements on PSPs which need to be strong in financial strength (with price advantages in advance payment of MIS funds for MIS patients and purchase by cash), to conduct standard management by strictly observing GSP requirements and to be able to collaborate with MIS authorities and hospitals in full-process supervision of payment with MIS card.
The greatest difficulties of prescription outflow are in MIS pooling, prescription authenticity, reasonable medication and full-process traceability, among others. The connection of retail pharmacies with the Prescription Sharing Platform can help solve these problems precisely and enable "authentic prescriptions, patients and marketing", leaving no future worries in opening MIS Pooling Funds to retail pharmacies.
Ma Guanglei said that the standards for pharmacies to access the Prescription Sharing Platform are rigid whether in terms of system or brand, hardware, inventory or service requirements and that preventive measures are in place to cope with pharmacies and individuals engaged in noncompliant operation in a timely manner. Hospitals and YFZ are working together to formulate access standards. The pharmacies apply for access voluntarily, which is subject to a joint review process by the hospitals and YFZ. The pharmacies will not be able to access the Prescription Sharing Platform if they fail in the review process.
Policy planning indicates that pharmacies will be the most important handler of outflowing prescriptions. With the orderly operation of a standard third-party platform, the market of the retail pharmacy sector will hopefully witness an increase by RMB 100 billion in a number of years. As far as the pharmacies and the platform are concerned, what the outflowing prescriptions test is their technical, service and industrial capacity. YFZ will work with the hospitals, pharmaceutical companies, pharmacies, among other partners to further explore and improve the "Wuzhou Model" and, with due consideration of the local situation, help medical reform fulfilled in all provinces and municipalities to achieve the "separation between medical and pharmaceutical services" and more easily accessible services for the benefit of the general public.