Baheal Medical and Shanghai Yizhong Jointly Explore the Commercialization of Innovative Anti-tumor Drugs
Release Time:2022-02-13
View Count:1185
On February 12, 2022, Shanghai Yizhong Pharmaceutical Co., Ltd. (Shanghai Yizhong, 688091.SH) and Qingdao Baheal Medical INC. (Baheal Medical, 301015.SZ) signed a cooperative agreement in Qingdao. These two parties will cooperate on the commercialization of Zisheng®, paclitaxel polymer micelles for injection (paclitaxel micelles) as an innovative anti-tumor drug of Shanghai Yizhong and jointly promote the availability of domestic innovative anti-tumor drugs, which will benefit countless tumor patients in China.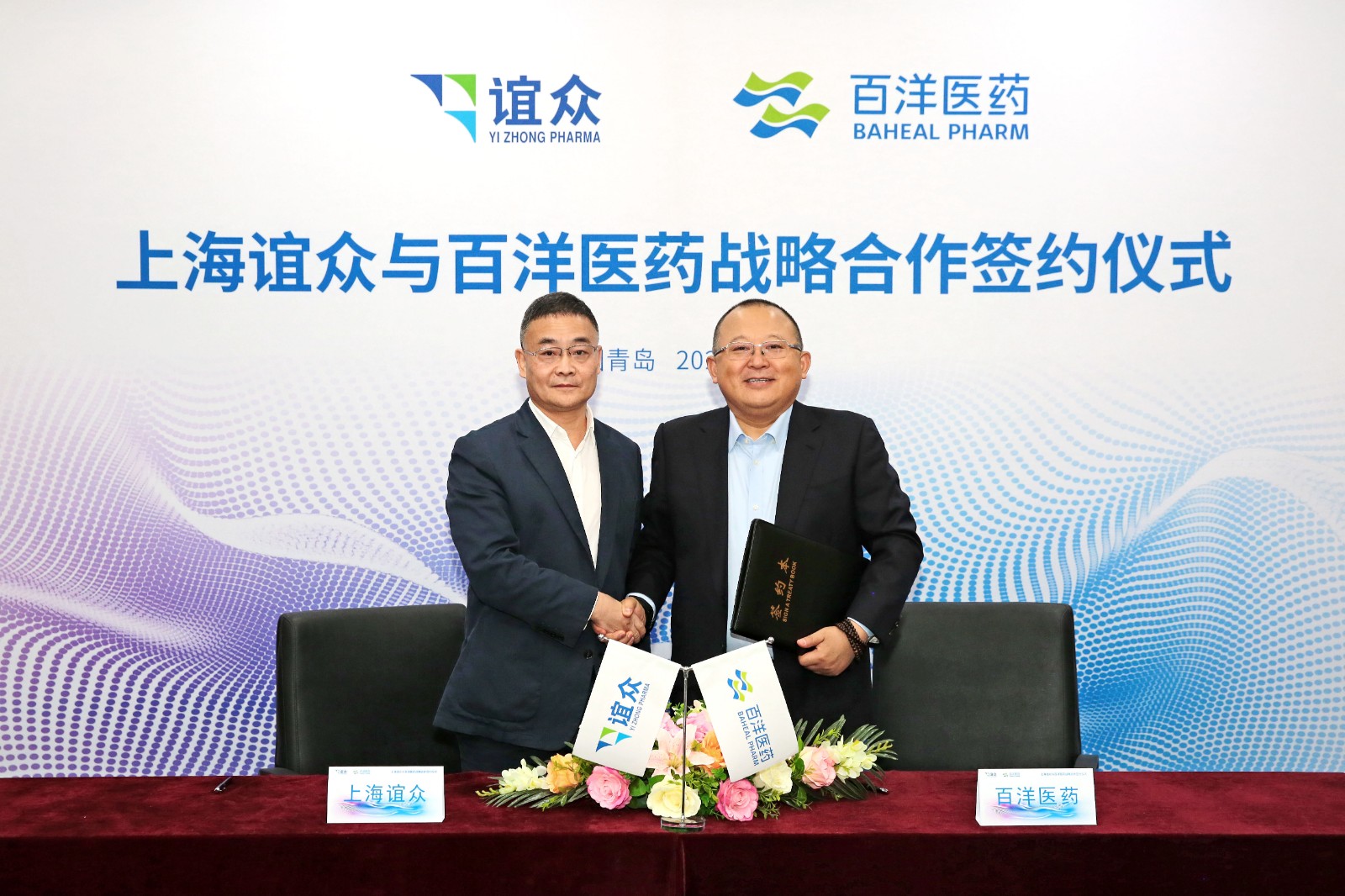 New Dosage Form of Paclitaxel Increases Drug Options for Cancer Treatment
Paclitaxel products have been developed for 30 years. As the cornerstone of anti-tumor chemotherapy, they have a wide range of indications, clear curative effects, and large clinical applications. They have always been the most widely used stars of anti-tumor chemotherapy in China. Domestic and foreign pharmaceutical companies continue to develop improved dosage forms of paclitaxel, which further extends the life cycle of paclitaxel products. The continuous improvement in efficacy and safety has helped to expand the product's indication scope and applicable patient population, further increasing the market space and product demand for paclitaxel.
As the latest dosage form of paclitaxel, paclitaxel micelles, we have adopted a new technology that combines nanotechnology and biomedical polymer material synthesis. Zisheng®, the paclitaxel polymer micelles for injection independently developed by Shanghai Yizhong, is the latest dosage form of 2.2 third-generation paclitaxel approved by the National Medical Products Administration (NMPA) (an innovative dosage form that has not been marketed at home nor abroad). It is also the first domestically approved paclitaxel micelle, and its Phase III clinical research has been included in the national Major New Drug Creation major science and technology project. It was approved as the first group of projects setup during the 13th Five-Year Plan period.
This dosage form has extremely strong in vivo stability and high intra-tumoral drug release sensitivity. Compared with other marketed paclitaxel dosage forms, paclitaxel micelles are relatively safer when the clinical dose is greatly increased. It is convenient for clinical use and does not require any anti-allergic pretreatment or any special infusion set before administration. The results of clinical trials for non-small cell lung cancer (NSCLC) showed that the objective response rate (ORR) of paclitaxel micelles was significantly improved, and the progression-free survival (PFS) was significantly prolonged. Especially in the first-line treatment of advanced non-small cell lung cancers, paclitaxel micelles showed its unique advantages and advancement in efficacy and safety. This is one of the major breakthroughs in the field of chemotherapy in the past 20 years. It indicates that paclitaxel micelles will become a new drug choice in non-small cell lung cancer chemotherapy.
Join Forces to Escort Commercialized Innovative Drugs into the Red Sea Market of 10 Billion
In recent years, with the reform of the national drug review and approval system, a large number of pharmaceutical companies have continued to increase their investments in the field of innovative drugs, and the types and quantities of domestic innovative drugs have shown an expanding trend. Shanghai Yizhong is a leading anti-tumor drug innovation and R&D company in China, and it is committed to the development of innovative drugs and related products. It regards innovation as the only strategy for company development, takes first, unique, safe, and forward as its core value, and makes its fundamental mission to develop and produce truly effective clinical value-oriented innovative drugs. In addition, based on nanotechnology and the core preparation technology of pharmaceutical polymer excipients, Shanghai Yizhong has played a unique and innovative role in the nano drug delivery system. In September 2021, Shanghai Yizhong was listed on the Science and Technology Innovation Board.
With the promotion of favorable pharmaceutical policies and capital, domestic innovative drugs ushered in a tailwind. However, for innovative drug products, entering the market is only the first step towards commercialization. At present, the bottleneck that needs to be overcome in the development of innovative pharmaceutical companies is to solve the last-kilometer problem of innovative drugs, so that products can be quickly distributed to end users in the market and correctly used by patients.
In the highly competitive domestic innovative drug field, the commercial environment is changing rapidly, and cooperation with professional third-party commercialization platforms to achieve win-win results has become the mainstream choice for innovative pharmaceutical companies. "Shanghai Yizhong is committed to developing next-generation innovative drugs and providing patients with safe, effective, and affordable high-quality drugs to meet their urgent treatment needs," Zhou Jinsong, chairman of Shanghai Yizhong, said at the signing ceremony.
He continued, "Paclitaxel micelles is our first product on the market. At this stage of commercialization, we hope to cooperate with Baheal Medical, a professional third-party commercialization platform, to jointly promote innovative drug products into the market and benefit more tumor patients."
As a professional health brand commercialization platform, Baheal Medical is based on the three core capabilities in category insight-based brand operation, Baheal Data Platform customer management and long-term operation mechanisms. By providing professional escort services for the brand commercialization of innovative drug companies, it has enabled innovative drugs to quickly enter application scenarios and break the post-market commercial dilemma of innovative drugs. At present, Baheal Medical has not only created a rich brand matrix in the fields of OTC, Comprehensive Health, OTX, and other prescription drugs, but has also undertaken to deliver high-quality products, such as Roche Pharma's Xeloda and Tarceva and Astellas Pharma's patented Betmiga.
"As a third-party commercialization platform with brand operation as the core, Baheal Medical has strict selection criteria: first, to eliminate pseudo-innovation and select products that can truly optimize clinical application scenarios; second, to evaluate the quality of products based on professional evaluation capabilities; third, to promote the allocation of elements through ecological synergy and to select products that can truly complement and synergize with Baheal Medical's resources for commercial operation," said Fu Gang, Chairman of Baheal Medical.
"Paclitaxel Micellar Zisheng® is the third-generation paclitaxel with significant efficacy and safety, and its distribution in tumor tissue is much higher than that in blood, making it a revolutionary product," added Fu Gang.
In the cooperation between Shanghai Yizhong and Baheal Medical, the strong R&D capabilities of innovative drugs and excellent commercialization capabilities of both parties will be integrated. This powerful alliance is expected to bring a new cooperative paradigm to the commercial innovation of drugs.