Baheal Medical and Novartis China Enters into Strategic Cooperation
Release Time:2023-02-27
View Count:348
On February 26th, 2023, Qingdao Baheal Medical INC. (hereinafter referred to as "Baheal Medical", 301015.SZ) announced that it had recently signed a strategic cooperation agreement with Novartis Innovative Medicines China (hereinafter referred to as "Novartis China"). The two parties will engage in an in-depth cooperation related to the commercial operation of Novartis' targeted therapy drug Votrient® (Pazopanib Tablets) for the first-line treatment of advanced renal cell carcinoma in the Chinese market.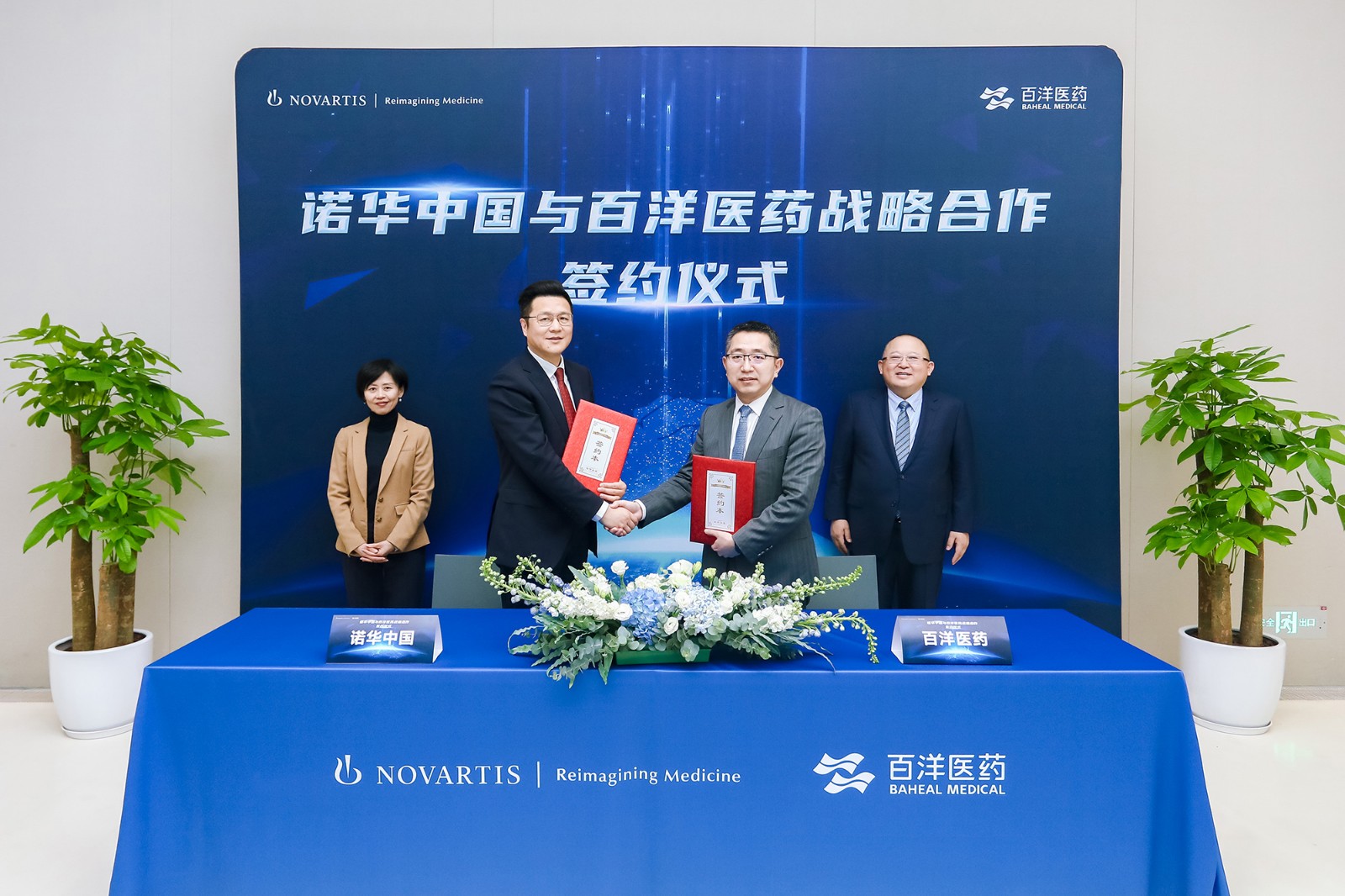 Votrient® is a new generation of tyrosine kinase inhibitors (TKI), mainly used for the first-line treatment of advanced renal cell carcinoma patients and the treatment of advanced renal cell carcinoma patients who have received cytokine therapy. It has the best objective response rate (ORR) as a monotherapy [1]. Since its approval and launch, Votrient® has been marketed and used in more than 100 countries and regions worldwide, and has been recommended by numerous authoritative guidelines at home and abroad. In 2017, Votrient® was officially approved and launched in China, and in 2021, it was included in the National Medical Insurance Catalogue, which helped alleviate the treatment burden for advanced kidney cancer patients in China, and has helped numerous patients and families in the past five years.
Regarding this collaboration, Mr. Chen Hui, Head of Retail, Emerging Market and Business Department of Novartis Innovative Medicines China, stated: "As a global leading pharmaceutical company, Novartis is not only committed to providing innovative drugs and treatment solutions, but also particularly values exploring innovative business models, enhancing external cooperation, and further improving the accessibility of innovative drugs."
Ms. Zhu Jiakang, head of Tumor Treatment of Novartis innovative Medicines China, said: "In the future cooperation, Novartis hopes to work together with Baheal Medical to maximize the long-term value of the brand Votrient® by leveraging resources and advantages in the pharmaceutical and healthcare industry chain, so that as many patients as possible can benefit from Novartis' innovative drugs."
Mr. Fu Gang, Chairman of Baheal Medical, said: "As a third-party commercialization platform with brand operation as its core, Baheal Medical has strict selection criteria for products. As a classic star drug in the field of advanced kidney cancer treatment, Votrient® forms an effective synergy with Baheal Medical's existing product portfolio. Based on a mature brand management system, Baheal Medical will systematically allocate resources according to the brand's life cycle, develop reasonable commercial solutions, and help realize and sustain brand value, meeting diverse health needs of patients."
In line with the trend of specialized division of labor in the healthcare industry, the strategic cooperation between Baheal Medical and Novartis China is an outstanding example of multinational pharmaceutical companies collaborating with Chinese domestic third-party commercialization platforms. In the future, Baheal Medical and its partners will fully leverage their respective strengths to jointly provide better medical and healthcare products and services for Chinese patients, and promote the high-quality development of China's healthcare industry.
As a leading third-party commercialization platform in A-share market, Baheal Medical has built "brand highways" by relying on its professional category insigh and brand operation, digital marketing, and ecological organization collaboration capabilities, dedicated to providing commercial escort services for various brands and enterprises. Up to now, Baheal Medical has established deep cooperation with many well-known multinational pharmaceutical companies, such as Roche, AstraZeneca, Astellas, and CSL Behring, and the value of its commercialization platform continues to be highlighted.
Sources:
[1] Journal of Clinical Urology, Optimization of First-line Targeted Therapy for Advanced Renal Clear Cell Carcinoma - Consensus of Chinese Experts (2022), Volume 37, Issue 5.