Baheal Medical Commercialization Platform for Cosmeceuticals Skincare Products Joins forces with Daiichi-Sankyo to Further Develop the Skin-whitening Market
Release Time:2023-04-04
View Count:352
On February 23rd, 2023, Qingdao Baheal Medical INC. (hereinafter referred to as "Baheal Medical", 301015.SZ) and Daiichi-Sankyo (China) Investment Co., Ltd. [referred to as "Daiichi-Sankyo (China)"] signed a strategic cooperation agreement in Shanghai. The two parties will collaborate on the commercial operation of Daiichi-Sankyo's (China) skin-whitening brand, TRANSINO, in the mainland China market. Based on their respective unique advantages in their fields, they will comprehensively promote the brand awareness and market share, and jointly promote the healthy development of the skin-whitening and freckle-removing market.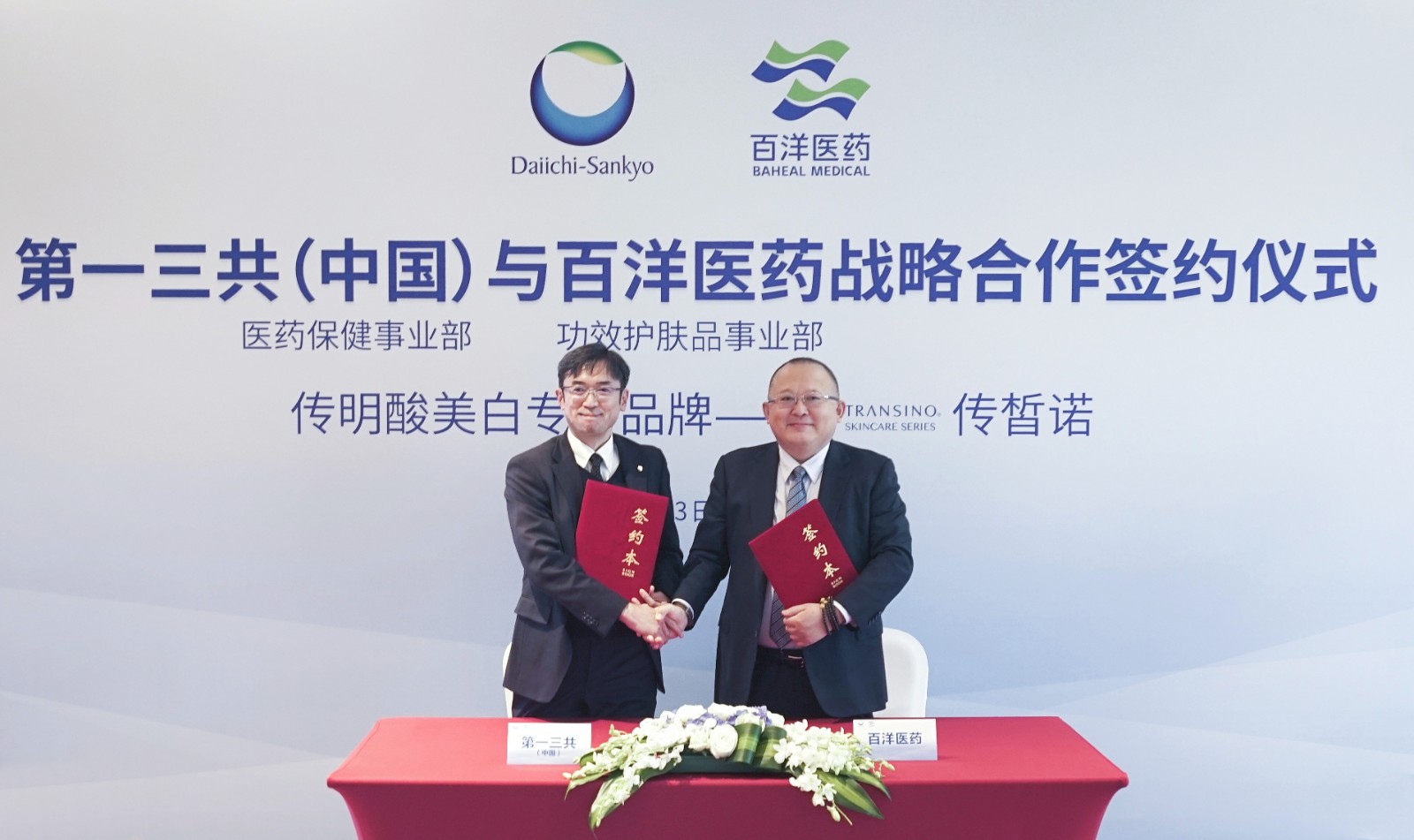 Specializing in the research and development of Tranexamic acid, the original manufacturer of the brand has added new impetus to the development of the whitening skincare market
With the rapid development of the functional skincare market, the whitening market, as an important segment, has continued to show an upward trend in growth. Consumers' demand for whitening has also been unprecedentedly released. "Tranexamic acid" can effectively interfere with the production pathway of melanin, inhibit melanin synthesis, and its safety and stability have been recognized by the academic community. Today, it has become a widely used mainstream safe whitening ingredient worldwide.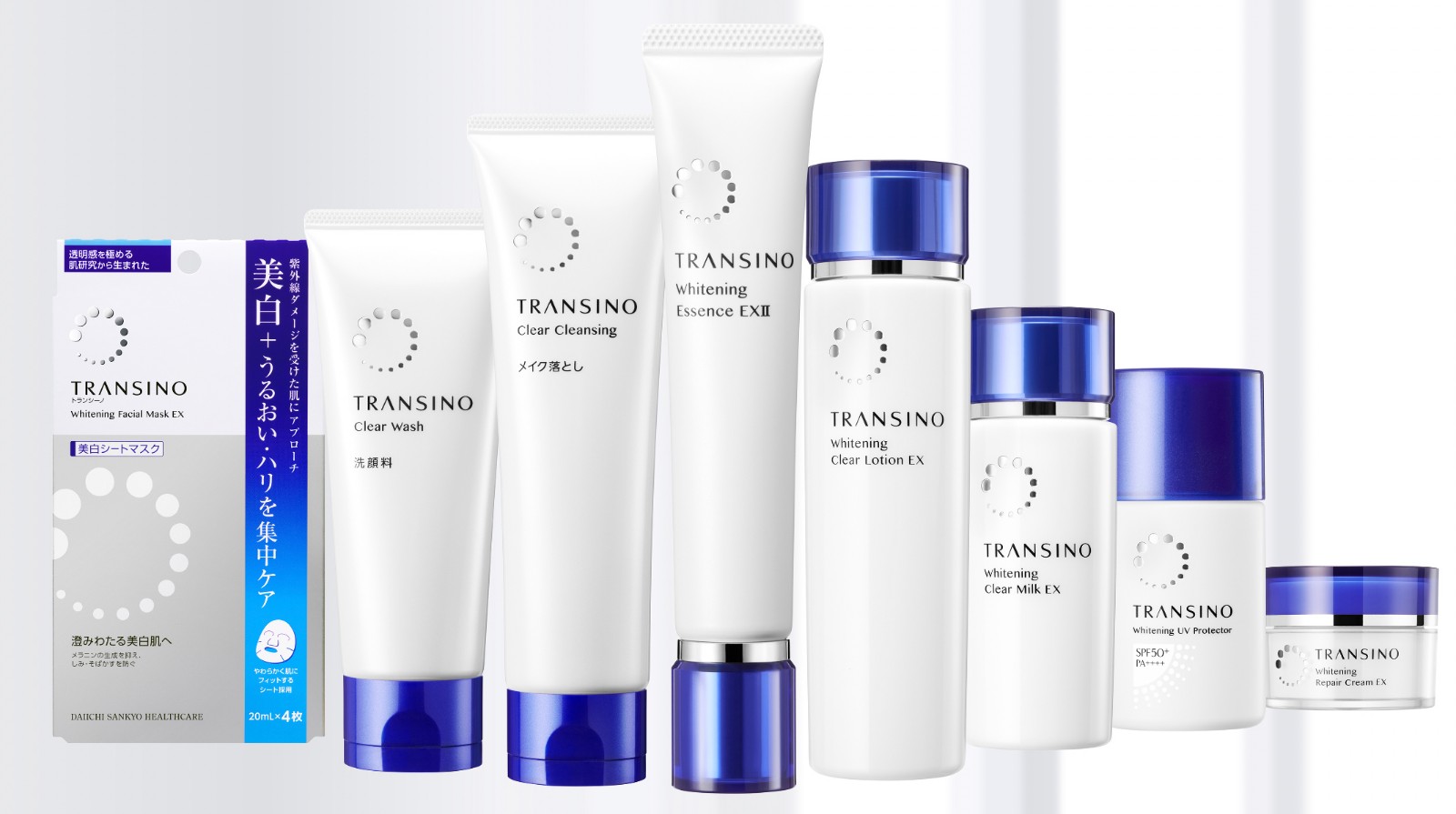 As the first skin-whitening brand under Daiichi-Sankyo, TRANSINO has a rigorous evidence-based medical foundation and strict product approval procedures, which meet the long-standing selection criteria of Baheal Medical commercialization platform for cosmeceuticals skincare products---all partner brands are produced by pharmaceutical companies and have medical clinical validation for their core efficacy.
During the signing ceremony, UCHIDA YOSHIO, President of Daiichi-Sankyo (China), stated: "Baheal Medical has rich brand operation experience and channel resource integration capabilities, which will provide positive support for the rapid introduction of the TRANSINO product line to the market. This cooperation has a positive significance for further enhancing the brand's influence and meeting the growing demand for effective skincare among Chinese consumers."
Mr. Fu Gang, Chairman of Baheal Medical, said: "Daiichi-Sankyo is a diversified global pharmaceutical company with a history of more than 100 years, bringing many high-quality products to the Chinese market. As a third-party commercialization platform, Baheal Medical will leverage its professional commercialization promotion capabilities and work with Daiichi-Sankyo to promote the entry of clinically proven cosmeceuticals skincare products into application scenarios, providing Chinese consumers with better product choices."
Targeting the golden track, Baheal Medical is helping to promote the standardization and upgrading of the industry
According to statistics from iResearch Consulting, the scale of China's cosmeceuticals skincare industry has reached 26.01 billion yuan in 2020, and the industry is expected to continue growing at an average annual compound growth rate of 29.4% over the next three years, reaching 58.97 billion yuan in 2023.

Targeting the fast-growing golden track, Baheal Medical has been actively deploying in the field of cosmeceuticals skincare since 2018. In November 2021, it jointly launched the first commercialization platform for cosmeceuticals skincare products with Ries Positioning Strategy & Consulting, becoming an important force in promoting the standardization of the cosmeceuticals skincare industry. Baheal Medical commercialization platform for cosmeceuticals skincare products is based on "brand operation capabilities that follow the laws of the brand life cycle, brand marketing capabilities that are core to category positioning, and brand service capabilities based on medical standards". The platform aims to helpcosmeceuticals skincare brands quickly enter matching marketing scenarios, avoid traffic traps, and build strong brand capabilities.
Based on the professional capability of providing continuous empowerment to brands through the commercialization platform of cosmeceuticals skincare products, Baheal Medical continuously expands the market boundaries of operating brands and has become an important force in promoting the healthy development of the industry. Excellent market performance and reputation have further expanded Baheal Medical's "circle of friends", and it has now established deep cooperation with many well-known pharmaceutical companies in the industry, including Japan's COSMED Pharmaceutical, Sato Pharmaceutical, and Giant Biogene. After years of market cultivation, the operated brands have emerged as leaders in their respective sub-categories.
In the future, Baheal Medical will continue to cultivate the field of cosmeceuticals skincare, relying on its mature brand operation experience and strong marketing network resource advantages to improve industry efficiency and standardization, and promote the sustained and stable development of the domestic market for cosmeceuticals skincare products.