Baheal signed a cloud contract with Mylan to deepen cooperation in the field of bone health
Release Time:2020-03-06
View Count:600
On March 4, Baheal Pharm and Mylan, the world's largest generic drug supplier, reached a "screen-to-screen" cooperation on the cloud. "Baheal Pharm officially became the sole general agent of the Glucosamine Sulfate Capsules Viartril-S® (10 Capsules) in the retail market of Mylan.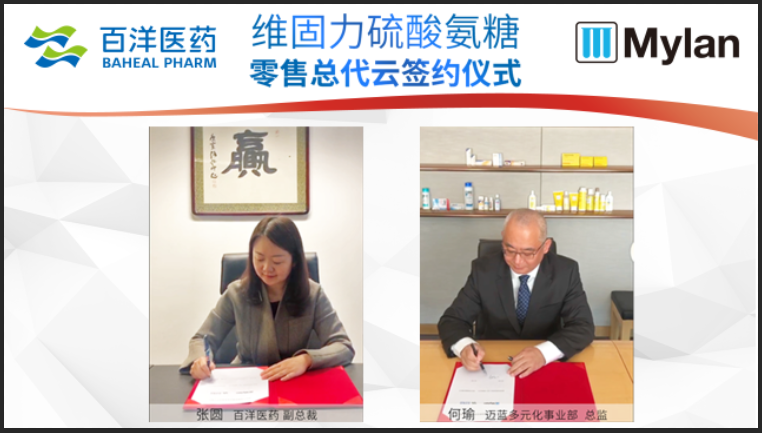 The close cooperation between Baheal Pharm and Mylan Pharmaceutical has a long history. With the help of Baheal Pharml's commercialization platform, Mylan's two major products of liver diseases, Subivol and Ligalon, and high-end health care products, have quickly penetrated the Chinese retail market.
The comprehensive entry into China's big health consumer market has laid a good foundation. Against the backdrop of greater challenges in the pharmaceutical retail market in 2020, this time the two parties have again chosen to join forces to lay out bone health categories, which will undoubtedly complement each other's sincere cooperation in the field of general health.
According to authoritative statistics, osteoarthritis (OA), known as "undead cancer", has a very high incidence in China. On average, 1 in 10 people suffer from osteoarthritis, and people over 40 years of age About half of the illnesses have seriously affected patients' quality of life. Studies have shown that Viartril-S® is the first original crystalline glucosamine sulfate product to treat osteoarthritis, which can effectively relieve pain and promote repair. Authoritative guidelines recommend its clinical effect to be superior to other glucosamine products. This also means that as the original researcher, Viartril-S® will bring brighter hope to domestic osteoarthritis patients.
With the full takeover of the Viartril-S® brand, Baheal will give full play to the advantages of its commercialization platform. On the one hand, it will help Viartril-S ® accelerate its layout in the Chinese pharmaceutical retail market, and bring good medicine with nearly 30 years of clinical efficacy verification to hundreds of millions of Chinese patients with osteoarthritis.On the other hand, it can be synergistic with the existing brand US imports of calcium D-cal, which can not only help optimize the promotion resources, improve efficiency, but also enrich the bone health category matrix and bring consumers Quality full range products.
So far, Baheal Pharm has reached a stable cooperative relationship with hundreds of upstream companies, successfully expanded new channels and new markets for multiple brands, and fully released the value of partners' products. In the future, Baheal will also work together with partners and make breakthroughs, allowing more high-quality products and services to enter the application scene and benefit the people.