Baheal commercialization platform partnered with Abbott to expand the vast market in China
Release Time:2020-11-05
View Count:606
Shanghai, November 5, 2020 – Abbott and Qingdao Baheal Medical INC. formally signed an agreement in Shanghai during the Expo. Through the omni-channel commercial platform, Baheal will help high-quality products and efficient treatment programs reach patients smoothly and accurately, improve patients' experience of drug purchase and quality of life, and make good drugs benefit more patients.
Jin Fangqian, general manager of Abbott's pharmaceutical business in China, and Fu Gang, chairman of Baheal , attended the signing ceremony as enterprise representatives.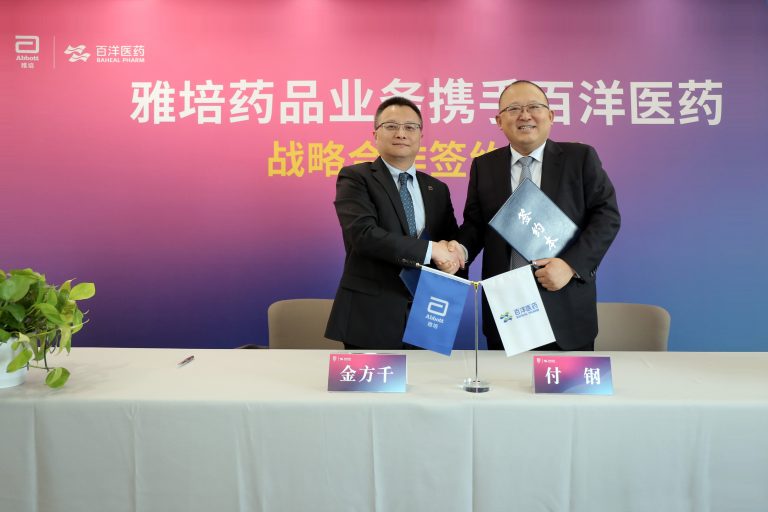 At present, under the new development pattern with domestic major circulation as the main body and domestic and international double circulation promoting each other, the scale advantage and domestic demand potential of China's medical and health market need to be further stimulated. At the same time, as the pharmaceutical market enters the rapid development period of iterative upgrading, pharmaceutical enterprises are constantly adjusting their marketing strategies in order to expand a broader market.
By 2030, China's retail pharmacy prescription drug market will exceed 300 billion yuan, according to China Health Information. In addition, in recent years, such strong grass-roots policies as graded diagnosis and treatment have been continuously promoted, and broad markets such as counties and cities have become new battlefields favored by pharmaceutical companies.
In June 2019, Abbott became a member of the "100 billion Prescription drug Retail Platform" alliance led by Baheal . "In China, we continue to bring high quality, reliable medicines to help people recover and stay healthy, and we are committed to bringing meaningful innovation to the market," said Jin Fangqian, general manager of Abbott, referring to our renewed partnership with Baheal. Through this cooperation with Baheal, We hope to better provide health solutions for Chinese families."
For upstream drug firms increasingly diversified demand, the Baheal professional pharmaceutical commercial platform through omni-channel coverage, cross-selling and digital marketing capabilities, and strong marketing network, provides omni-channel solutions for upstream industrial enterprises to improve operational efficiency, and promotes standardized development of the industry .It also expands the channels of a wider release more brand value, service more demand of consumers.
As for the arrival of the new commercial platform highway partner, Fu Gang, chairman of Baheal , said, "Abbott, as the world's leading healthcare company, has products and services to meet the needs of disease prevention, diagnosis, treatment and rehabilitation. It is our social responsibility to ensure the accessibility of medicines and make good products and services reach the demand side. We hope that Baheal's omni-channel commercial platform will help international leaders like Abbott expand in the Chinese market and provide more convenient services for Chinese patients."
Baheal pharmaceutical commercialization platform has successively reached cooperation with domestic and foreign mainstream pharmaceutical companies, such as Astellas, Takeda,CSL Behring and so on, to facilitate the rapid entry of high-quality products into the application scene.Now we have Harnal® series, Takeda series, Mylan series and other products, forming a multi-category healthy brand matrix.
In the future, Baheal will integrate high-quality resources with the commercial platform to drive the industrial iteration and the rise of new categories to extend the industrial chain, enhance the core competitiveness of medical and health enterprises. Bahealwill work with partners to provide better healthcare products and services for Chinese consumers.