Baheal commercialization platform has reached a new cooperation with Astellas
Release Time:2020-12-17
View Count:614
On December 16, Astellas Pharma (China) Inc. and Baheal Medical Inc. held XOSPATA® (gilteritinib) import and distribution strategic signing ceremony. This will lay the foundation for the first cooperation between the two sides in the field of imported drugs.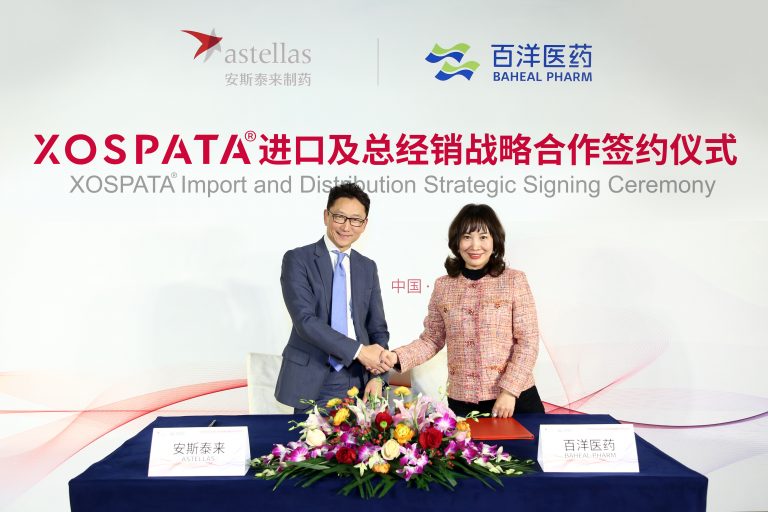 Baheal has already partnered with Astellas before on Harnal® and Feburic® to provide health services to Chinese patients. This time, the two sides will work together again for XOSPATA enter into the Chinese market, which will fill the gap in the availability of approved targeted drugs for patients with relapsed or refractory acute myeloid leukemia (AML) FLT3m+ gene mutation in China, and bring new treatment options for AML adults.
According to related statistics, nearly 80,000 people in China diagnosed with leukemia. AML ,a cancer of the blood and bone marrow, is one of the most common types of leukemia in adults. It has the lowest survival rate of all types of leukemia. This mutation is associated with worsened disease-free survival and overall survival, and a higher risk of getting the disease more than once. About 25% to 30% of patients with AML have the possibility of fMs-like tyrosine kinase 3 (FLT3) mutation, and there is currently no approved target drug for FLT3 mutation in China.
As Astellas's first innovative blood tumor drug, XOSPATA has significant inhibitory effect on FLT3-ITD and FLT3-TKD, and is the first FLT3 inhibitor approved by the FDA for relapsed or refractory AML. It is accessible to patients in the US, Japan, parts of the European Union and other countries and regions. The New England Journal of Medicine has published the results of the XOSPATA PHASE III ADMIRAL trial, which showed that the overall survival and remission rates of patients treated with XOSPATA were significantly higher than those receiving standard salvage chemotherapy.
On March 24, 2020, Gilteritinib was submitted NDA in China. On July 21, Gilteritinib obtained the qualification of priority evaluation, and on November 19, it was included in the list of the third batch of clinical urgently needed overseas new drugs.
In the context of national acceptance of overseas clinical trial data of drugs and simplification of import approval of overseas listed drugs, XOSPATA is expected to accelerate the approval of market in China and bring breakthrough treatment for AML patients with FLT3 mutation in China as soon as possible.
Under the influence of diagnosis and treatment scheme, disease cognition degree and other factors, overseas innovative drugs enter the Chinese market. How to quickly distribute the products to the terminal market within the patent period and timely provide patients with disease treatment solutions is an urgent problem to be solved after the drugs are approved to be marketed.
As the world's leading innovative pharmaceutical company, Astellas is committed to transforming innovative science into medical solutions that bring value and hope to patients around the world. The development of the Chinese market is an important part of Astellas global strategy.
As a professional third-party pharmaceutical commercialization platform in China, Baheal provides omni-channel solutions for upstream industrial enterprises to improve operational efficiency, and promotes standardized development of the industry through omni-channel coverage, cross-selling and digital marketing capabilities .
Prior to this, Astellas has cooperated with Baheal, and many of its original research drugs have gained a significant increase in domestic market share.
It is understood that after the signing of this cooperation intention, the two parties will have further consultations on XOSPATA's integrated services such as import bonded customs clearance, warehousing and logistics, as well as omi-channel commercial platform solutions, so as to improve the drug availability of AML patients in China.
As a long-term partner, Astellas is full of confidence in the value and advantages of the commercial platform of Baheal. This cooperation with Baheal again will improve the unmet treatment needs of AML patients in China and bring new hope to patients and their families.