Baheal Medical Partnered With Roche China For Oncology Products
Release Time:2021-03-29
View Count:623
On March 29, Roche China and Qingdao Baheal Medical Co. Ltd. ("Baheal Medical") announced partnership in oncology field. Roche has granted the marketing rights of its two major oncology products, Xeloda® (capecitabine tablets) and Tarceva® (erlotinib hydrochloride tablets), to Baheal Medical in mainland China to promote the market layout of oncology drugs, enhance product accessibility and serve the majority of oncology patients in China.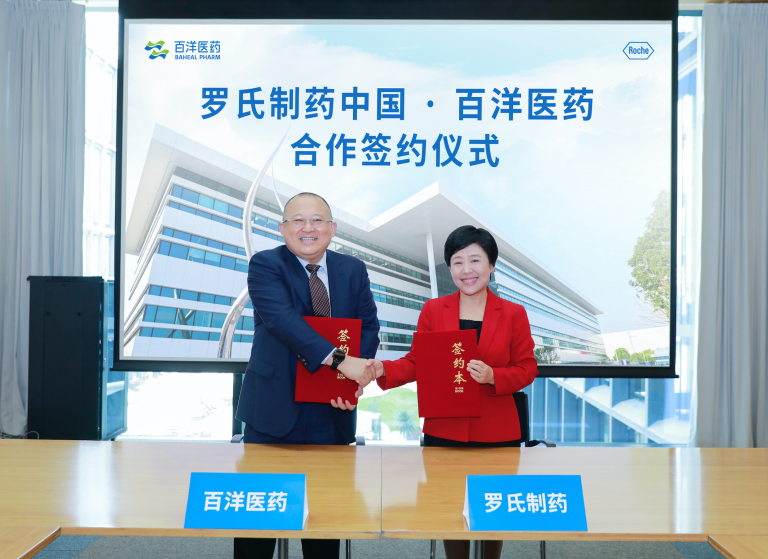 Xeloda® is a fundamental drug in the treatment of colorectal, gastric and breast cancers, and has synergistic effects with various antitumor drugs. It has been marketed and licensed in more than 100 countries worldwide and has accumulated more than 20 years of clinical experience, providing effective and flexible treatment options for more than 1.8 million cancer patients.
Tarceva® benefits approximately 160,000 cancer patients annually. It is a first-generation molecular targeted drug for lung cancer manufactured by Roche. As a classical drug in the tyrosine kinase inhibitor (TKI) class with rich experience in global use, it was approved in China in 2017 for the first-line indication of advanced or metastatic non-small cell lung cancer, and was successfully included in the National Health Insurance Catalogue in 2018, benefiting hundreds of thousands of lung cancer patients, and has a good market performance in China.
Hong Zhou, President of Roche China, said, "We are delighted to enter into this collaboration with Baheal, and both parties will leverage their respective strengths to enable originator drugs like Xeloda and Tarceva to continue to release their value and help more Chinese oncology patients. Adhering to the patient-first philosophy, Roche has been deeply involved in the Chinese market for many years; in the future, we will focus more on bringing more innovative drugs to China as soon as possible and actively cooperate with all parties in China to improve drug accessibility and patient service experience together."
In this regard, Gang Fu, Chairman of Baheal Pharmaceutical Group, said, "Roche is a leading global biopharmaceutical company, and we are very pleased to work together to bring more treatment options and clinical benefits to oncology patients, which is in line with Baheal's mission of 'providing better healthcare products and services to the whole society.' We believe that through Baheal's third-party commercialization platform, we can help these two products continue to show their value and provide high-quality and convenient health services to patients."
Currently, the policy of China is driving a comprehensive and profound change in healthcare industry, and the Chinese healthcare industry is being transformed and upgraded, and win-win cooperation among pharmaceutical companies has become mainstream.

Baheal's commercialization platform has partnered with mainstream pharmaceutical companies such as Astellas, Xian Janssen, CLS Behring and Takeda Pharmaceuticals, etc.. In the future, through the sharing of core resources and complementary capabilities, Baheal will work with Roche to provide professional and high-quality products and services for Chinese oncology patients and jointly contribute to the construction of "Healthy China 2030".